India ONLY !
Subscribe Now: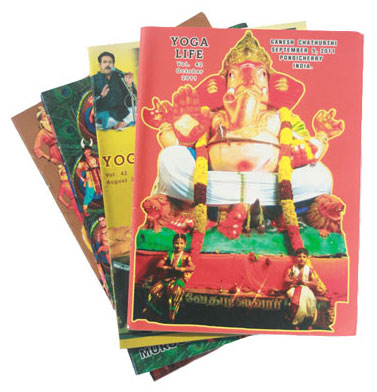 VERY IMPORTANT!

The following subscription rates are for delivery to addresses within India ONLY. Payments received from international addresses will be returned.
1 Year Subscription
(12 monthly issues)
4 Euro
(approx. 250 Rupees)

3 Year Subscription
(36 monthly issues)
9 Euro
(approx. 600 Rupees)



YOGA LIFE (MONTHLY JOURNAL)

" In over 40 years as a Yoga practitioner and 30+ as a teacher, I have read hundreds of different yoga journals, magazines and newsletters... there are none that I look forward to more than Yoga Life. "

Leigh Blashki,
Vice-President, Yoga Australia,
Secretary Aust Assoc of Yoga Therapists
Important Notes:
Rates include delivery to Indian addresses ONLY.
Rates are quoted in Euro currency. Your credit card will be billed in Indian Rupee equivalency. The actual Indian Rupee rate is dependant upon the daily currency exchange rates and may vary slightly from the above quoted rates.

Your subscription term (i.e. 1-year, or 3-year) will be automatically renewed on the date that it expires and the renewal fee will be automatically charged to your credit card (or your original method of payment, if different). If you do not wish to renew your subscription, you may cancel it at anytime prior to the date of expiration.