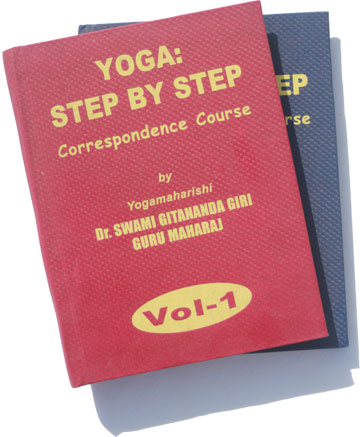 Yoga: Step-By-Step
Course Fees: 700 Euros


( free worldwide shipping )
Click on the orange button above to secure your order and enroll in Yoga: Step-By-Step.
NOTE: After securing your order, you must complete the Course Registration Form and post it to:
The International Center For
Yoga Education and Research
16-A Mettu Street
Chinnamudaliarchavady
Kottukuppam (Via Pondicherry)
Tamil Nadu -605 104, India

Download the Registration Form Here
For inquiries, contact: yognat2001@yahoo.com
YOGA: STEP-BY-STEP
By: Dr. Swami Gitananda Giri
About This Correspondence Course:
This correspondence course is the best basic training in Classical Yoga through the written word now available. The Yoga: Step-By-Step Correspondence Course study is one of the requirements for those desiring to participate in the Six Month International Yoga Teacher's Training Course held each year at ICYER from October 2 through March 25th.
Yogamaharishi Dr. Swami Gitananda developed this course in 1971 and the fifty-two weekly lessons are well illustrated with photographs and line drawings. It contains a practical, systematic step-by-step instruction in the integral practice of Rishiculture Ashtanga Yoga. Students answer the weekly lesson-questionnaire and submit their papers to ICYER - Ananda Ashram for evaluation.
Correspondence with the Guide Yogacharini Meenakshi Devi Bhavanani is encouraged. The Guru carefully goes through all papers and establishes a personal rapport with the students, through regular correspondence guiding each one through problems and difficulties.
A Certificate of proficiency is awarded upon successful completion of the course. Included, as a bonus is a free three-year subscription to the monthly journal Yoga Life.
DOWNLOAD:
Course Table of Contents
Yoga Teacher Training
Yoga: Step-By-Step is a prerequisite for the Yoga Teacher Training Program offered annually at Ananda Ashram in Pondicherry, India.
CLICK HERE for more about
the Yoga Teacher's Training Course