The Basic Yoga Trainer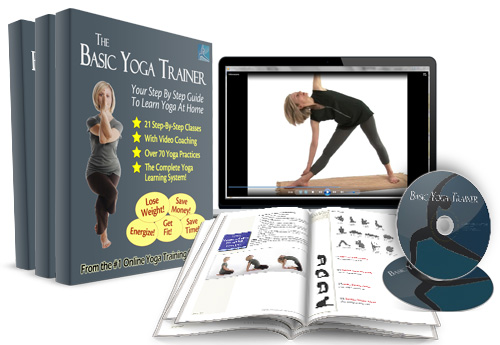 21 Easy Step-By-Step Lessons
Over 70 powerful yoga practices
Detailed Yoga Instruction Manuals
With Video Coaching
The Complete Yoga System!
No Waiting!

(Get instant access)
It's the easiest and most affordable way to learn yoga at home!
About The Basic Yoga Trainer
The Yoga Tutor's Basic Yoga Trainer is a one-of-a-kind online yoga training course. It's a step-by-step yoga program complete with detailed training guides and video demonstrations ... AND let me stress this next point ...

It is super easy to use !

Hundreds of people who want to learn yoga, just like you, have already tried The Basic Yoga Trainer, and based on the typical feedback we get, it lives up to its reputation as the BEST YOGA COURSE on the Internet.
The Basic Yoga Trainer Scores TOP MARKS!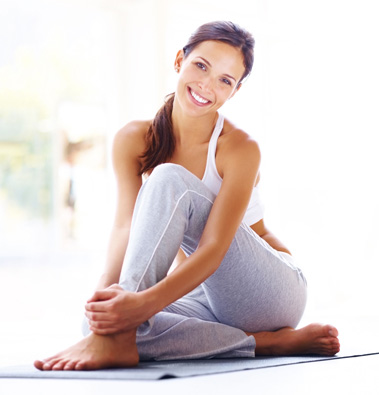 "I've been a yoga teacher since 1970 and I can say that this is definitely a great course. I've already recommended it to some of my students!"

Sheila Hayes,
Registered Yoga Teacher, UK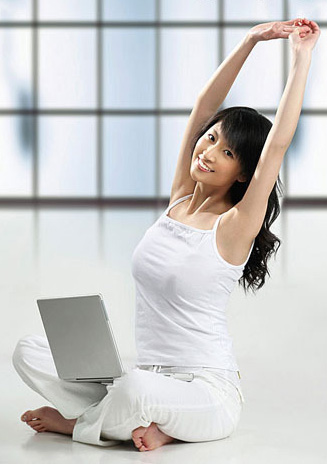 From the extensive research I've conducted, this yoga course is by far the BEST on the WEB.



J. Sean Durham, Ph.D., RYT,


Director of Studies, YogaSciences.com



How Does The Basic Yoga Trainer Work?
The Basic Yoga Trainer is divided into 21 lessons - one per day - which means it'll only take you 3 weeks to learn to practice yoga ON YOUR OWN! (Of course, you are always free to take as long as you like.)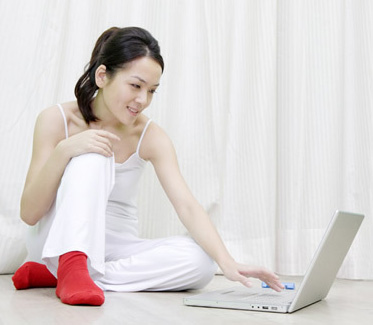 Each lesson takes you through the various principles and practices of yoga, slowly helping you to understand what yoga is all about and at the same time helping you, step by step, to build your own, personal home yoga practice.

The lesson training guides are in .pdf file format, which you will download right to your computer. You can even print them out if you want! Links to the accompanying videos are embedded directly into the pages of each lesson, so all you need to do is click to instantly watch them.



"I have put some of my students onto your course, those that have showed interest to develop their understanding of yoga. I really appreciate what you arc doing.

Well done!

"



Lucilla Hammond,
Registered Yoga Teacher
"I'm in a yoga teacher program now, but I've learned more from your course than anything I learned in class!"



Marie Neugent,
Yoga Student


Who Is The Basic Yoga Trainer For?
The Basic Yoga Trainer is an ideal yoga guide for yoga beginners ... but it's also a well-rounded introduction to the many dimensions of yoga that experienced yoga practitioners will also find very useful.

We frequently have yoga teachers take this course too, both for their own learning, as well as to gain another refreshing perspective on how to approach the teaching of yoga.

When these teachers recommend The Basic Yoga Trainer to their students (which they often do), that's pretty good proof that The Basic Yoga Trainer must being doing a good job with its online yoga instruction!
Your Basic Yoga Trainer Includes

21 Step-By-Step Yoga Lessons - Yoga doesn't get any easier than this interactive lesson system. Learn the principles and practices of yoga, with over 70 powerful youth-generating yoga techniques, all online, step-by-step.


Downloadable Manuals - Each yoga lesson contains a detailed instruction guide which includes yoga philosophy and step by step yoga instructions. The lesson manuals are in pdf format you can print or view right on your computer.

Video Demonstrations - Streaming videos demonstrating each of the yoga techniques accompany each lesson. Links to the videos are embedded directly within each lesson manual for ultimate ease of use.



Yoga Routine Quick Guides - These downloadable one-page quick-reference guides are a great aid while you're learning yoga. Outlines of some powerful yoga routines are also summarized in these quick guides.



100% Satisfaction Guarantee

- If for any reason you are not satisfied with this online yoga training course, we will refund your money within 60 days of your purchase ... no questions asked. That's our 100% satisfaction guarantee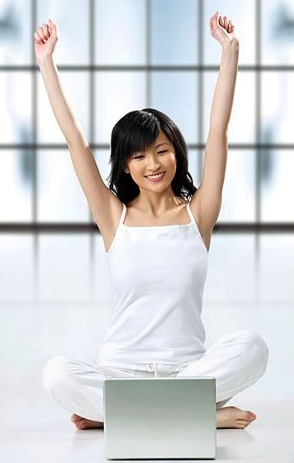 Instant Access
One more great thing about The Basic Yoga Trainer course is that EVERYTHING is right here, ONLINE. There's no paying for shipping or waiting for packages to arrive in the mail.

Just enrol here in a one simple step and start doing yoga right away!
The Author, Yogacharya
Namaste,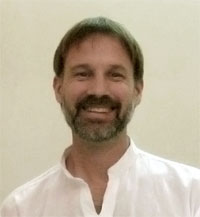 As a yoga teacher, I'm very happy to see the growing interest in yoga these days.

Yet I'm also dismayed by all the confusion surrounding yoga today, and the great deal of misleading ideas being put forward about it too.

It's clear to me that many of our modern yoga classes are NOT doing a very good job teaching people yoga.



That's why I created the Yoga Tutor website,



... and these step-by-step yoga learning programs that can be done right from the comforts of home.

Hundreds of people, both yoga teachers and folks just like you have tried The Basic Yoga Trainer, and from the feedback I constantly get, it must be working!



Does it Replace Yoga Classes?



NO ... But it does go well beyond what you'd get in the typical yoga class, teaching you step-by-step all about yoga and giving you the knowledge, the skills and the confidence to practice yoga OUTSIDE the yoga class too.

This 21-lesson program is so unique and so effective, and I really want YOU to benefit from it too, just like scores of people aready have. That's why I'm giving you my 100%, no questiones asked money back guarantee!

Sometimes you "don't know what you're missing until you try it." Well, this could be one of those times, so why not give it a try? With my RISK FREE guarantee, what have you got to lose?

Yours in Yoga,


I've gone to so many yoga classes and I didn't even realize how much I was missing until now.

Thank you so much for all that you've taught me about yoga ... and all the money you've saved me in the future too!



Jessica Hewitt, Yoga Student



INSTANT ACCESS:
Payments are processed by Paypal.com, our secure online payment processor. Upon receipt of payment, you will receive a confirmation email from International Yogalayam containing your username and password for instant access to the Basic Yoga Trainer.
NOTE:
The Basic Yoga Trainer is an internet-based training course. No physical product will be shipped. Yoga lessons are provided in .pdf file format and online streaming video.
Check Out Our Other Online Yoga Courses Too: