---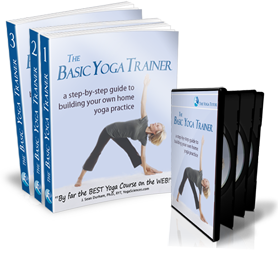 The Basic Yoga Trainer
Our most popular yoga course, this basic yoga course is perfect for yoga beginners and those who would like to start to develop the ability and confidence to practice yoga at home, on their own.
The Basic Yoga Trainer includes 21 step-by-step lessons complete with detailed training guides and video demonstrations.
---
The Science of Yoga

Our newest yoga home study program, the Science of Yoga is the perfect Home Study Course for those who are ready to go further from The Basic Yoga Trainer, but unable to commit to the full 1-year Yoga Master's Course.
The Science of Yoga is the most comprehensive, concise yoga home Study Course available anywhere ... at a very reasonable price too!
More info about The Science of Yoga
---
The Yoga Master's Correspondence Course
The most comprehensive yoga distance education program available anywhere, The Yoga Master's course is second to none in online yoga training.
Students of this 1-year yoga correspondence course are awarded a certificate of 480 hours of study in Classical Ashtanga Yoga upon completion.
[ Enrolment is limited ]
---
The Ayurveda Workshop
Ayurveda is the ancient Indian system of health and medicine, and the "sister science of yoga".
The Ayurveda Workshop is a basic step-by-step introduction to the practical principles and techniques of Ayurveda that provide the perfect compliment to your yoga studies.
More about The Ayurveda Workshop