[ Excerpt from The Science of Yoga, page 148 ]

Swami Gitananda's unique four-fold approach to the relaxation process is very useful. It deals with some of the biggest hurdles that people, especially those from Western cultures face when it comes to change -- that being the ability to release from pre-conceived ideas and to allow oneself to embrace that which can ultimately lead to transformation.

The Four Stages of Relaxation
Letting Down: The ego is the biggest barrier to transformation for almost everyone, and alone it keeps us locked in patterns of attitudes and behaviours. There is no magic formula for overcoming this hindrance to evolution, except to say that one must, in whatever way, muster the ambition and incentive to over-ride this powerful force from within. A pre-requisite to the release of a life-time of stress and tension is the letting down barriers to the needed advice and help. We must let down prejudices and preconceived ideas and notions, not only about people and life in general, but also about the nature of the spirit, health and healing. We must let down all of the false notions about material wealth and about the objectives and modes of modern living. Before we're able to enter a state of deep relaxation, we must leave behind all fears and anxieties and gain a positive attitude towards ourselves and others.

Giving Up: We must develop a firm desire to give up the stresses and strains that plague us. This action is not a submission or admission of defeat, but rather a positive affirmation-recognition of the hindrances to our evolution and the necessity of leaving them behind for real progress and transformation to occur. Here we're casting off our admitted weaknesses and foolish notions, all that which has lead us down the road to disharmony, stress and tension. This follows the yogic dictum of "giving up the lower in favour of the higher."

Giving In: In yogic relaxation we must 'give in' to the dictates of the inner mind. This 'relinquishing of control' is not merely a leap of blind faith or resignation, but an intelligent and intentional extension of our will, based on truth and understanding that is gained from experience. It is, in effect, conscious abdication of the will of the ego in favour of truths that we have come to know, trust and believe as a result of our direct experiences.

Giving Over: This giving over represents the relinquishing of control of the Inner Mind to the Higher Self. When we have succeeded in 'giving in' to the Inner Mind, then and only then will the Higher Self be readily palpable. The Self that we speak of here is the Self beyond any form of conditioning (be it cultural, religious, familial, etc), that which exists in satchidananda--from the roots sat (truth), chit (reality/consciousness), anandam (bliss)--under whose direction we are able to experience the highest state of relaxation. That highest state is a mergence into a beautiful, super-conscious state—a state in which we maintains full awareness, but one which words alone cannot describe.

[Continued...]


---------------------
NOTE: This yoga article is an excerpt from The Science of Yoga, an online yoga training program with streaming yoga videos and 600 pages of step-by-step yoga instruction.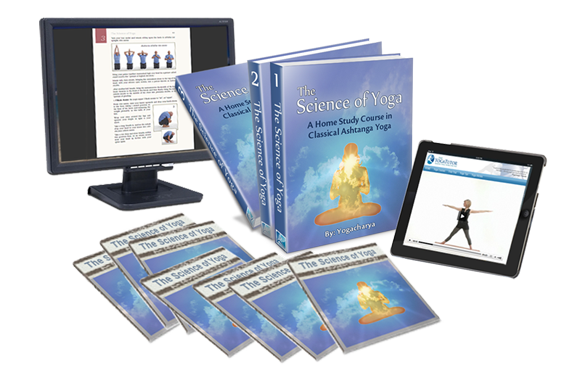 "The Science of Yoga is a course worthy of
leather binding and an honored place in the
finest libraries in the world
... It is indeed a masterful work."

Dr. John Michael Christian
AwakeningWithYoga.com