Welcome to International Yogalayam's
YOGA KNOWLEDGE CENTER ...
Yoga is a vast body of knowledge that includes amazing exercises for physical health and vitality ... But yoga goes way beyond that too.
The wisdom of yoga goes back thousands of years. And even today it can still help to guide us through every phase of life, to achieve health on all all levels - mental, physical, emotional and even our higher spiritual nature too.
But yoga is not a tedious, boring mental pursuit. On the contrary! It's a refreshing, logical, living, breathing science that gives us practical wisdom to bring into our lives every day ... things that REALLY CAN and literally WILL help you to have the life you've always dreamed of!
The links on this page will give you a glimpse at some of the amazing possibilities of yoga ... ENJOY!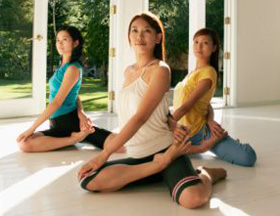 The Science of Yoga is one of the most comprehensive and detailed yoga home study programs available.

In fact, it is really the ONLY yoga home study program for those serious about not only developing a great foundation of practice in the yoga exercises, but also a firm understanding of all the aspects of yoga.

The Science of Yoga takes yoga out of the gym/studio and teaches students how to make it a living, breathing foundation for a much healthier, harmonious and happier life.

You can enroll in this unique step-by-step online yoga training program right here on our website...

You can also access excerpts from each of the 24 yoga lessons in the drop down menu above under "The Science of Yoga," or via links in the righthand side of this page.

For more information, visit The Science of Yoga...
"Absolutely Fantastic!
The Science of Yoga is probably the most comprehensive and detailed study on Ashtanga and yoga available! It is a great gift for all students of yoga..."
Tamara Machavariani, Founder: Yoga Business Academy