Ananda Balayogi Bhavanani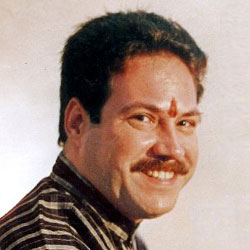 Yogacharya Dr Ananda Balayogi Bhavanani is the son of Yogamaharishi Dr. Swami Gitananda Guru Maharaj and Yogamani Kalaimamani Yogacharini Meenakshi Devi Bhavanani. He grew up in the gurukula of Ananda Ashram in Pondicherry, India, where the yoga vidya (knowledge of the art and science of yoga) was imbibed as a 24 hour a day sadhana.

Ananda took great interest in the Hindu rites and rituals, mantra, yoga and the Carnatic fine arts from a very young age. He was nominated as his guru father's successor on his fourth birthday and was trained in Rishiculture Ashtanga (Gitananda) Yoga under the guidance of his Guru-father.

Following in his father's footsteps, Ananda Balayogi Bhavanani later enrolled in medical college in order to combine eastern wisdom with the best of western science. During his medical studies at J.N.M.C Wardha (Nagpur University), he was the top student in a class of hundreds and was also the student representative at his medical college. He secured distinction in surgery and a gold medal in community medicine in his final year, topping about 500 students from the five medical colleges affiliated with Nagpur University. Later he completed his internship at JIPMER Hospital, Pondicherry, India.

He has completed with distinction a two-year, post graduate diploma in family health (PGDFH) from Sri Ramachandra Medical College in Chennai (2003); completed a diploma in psychological counselling as well as a diploma in stress management from the Institute for health care administration, Chennai in 2001; and passed the PG diploma in yoga from Annamali University with Distinction, also finishing highest among the 350 students in 2005.

Ananda wrote his first book at the age of 12 years, entitled Yoga for Children, and has since authored many books and produced several videos related to yoga. He has had 18 scientific papers and 21 scientific abstracts on yoga research published. He has also published numerous articles in many leading international yoga magazines and journals. He has worked as a SENIOR RESEARCH FELLOW in the Yoga Research Project conducted by the Department of Physiology, JIPMER under the auspices of the Union Health as well as Defence Ministries, New Delhi. ananda-balayogi-bhavanani-2Yogacharya Ananda Balayogi Bhavanani was a performer of Bharata Natyam and has performed all over India - notably at the ABHAI National Dance Festival in 1992.

Following his father's Maha Samadhi on Dec. 29, 1993 he stopped his dance performances, focusing his attention on Dance Choreography for Yoganjali Natyalayam. He has helped to choreograph 6 Major Dance Dramas and 12 Mini Dance Dramas for Yoganjali Natyalayam in the last seven years. His accomplishments as a carnatic vocalist are numerous, including the release of two albums. He has performed innumerable vocal and instrumental recitals all over India including in Bombay, Dehra Dun, Chennai, Cochin, Lonavla (Pune), Bangalore and Pondicherry.

As a Mridungist, Ananda has accompanied great artists like Padma Bhushan T.V. Shankaranarayanan, Kalaimamani Srirengam Ranganathan, Kalaimamani Kulikkarai S.P. Vishvalingam, Kumbakonam M.R. Gopinath; he has also performed on several musical recordings for various indian musicians.

Yogacharya Ananda Balayogi Bhavanani has been a featured speaker at many Yoga conferences and is a regular invited speaker at the International Yoga Festival conducted by the Government of Pondicherry each year. Dr. Ananda fulfills many important roles holds numerous positions of distinction within the National and international Yoga community, including the following:


Co-ordinator and Jury at the International Yogasana Competition held at the International Yoga Festival at Pondicherry annually (and is responsible for organizing the more than 500 contestants who come from all over India to participate).
He has also organised HIMALAYA YOGA OLYMPIAD in Pondicherry (2001) in his capacity as Himalaya State Coordinator, and led the Pondicherry team to the National Himalaya Yoga Olympiad at Bangalore in November 2001.
He is responsible for reviving the Pondicherry Yogasana Association (2000) founded by Yogamaharishi Dr Swami Gitananda Giri in 1975, and is currently the General Secretary.
As well, he is a member of the Executive Committee of the Indian Yoga Federation, Kolkata.
Advisor to the World Yoga Council and Member of the International Council for Yoga Sport in the International Yoga Federation, South America.
Vice president of the Asian Union of Yoga, New Delhi, India
Life member of the INDIAN MEDICAL ASSOCIATION; ABHAI (Association of Bharata Natyam Artists of India)
IAYT (International Association of Yoga Therapists, based in U.S.A)
IYA (International Yoga therapy Association of the International Yoga Federation based in South America)
APPI (Association of Physiologists and Pharmacologists of India)
Pondicherry Psychology Association
The INDIAN ACADEMY OF YOGA, BHU, Varanasi.

Yogacharya Ananda Balayogi Bhavanani is the patron of the SANATHANA DHARMA SANGHA, the Hindu Movement in Italy and Europe, as well as more than one hundred Rishiculture Ashtanga (Gitananda) Yoga centres all over the world. He is also Patron of the Gitananda Yoga Associations of Australia, Spain and Italy.

He has received the Shri Marudha Ramalinganar OUTSTANDING YOUNG PERSON AWARD and Rolling Shield for the year 2002 from the Youth Peace Centre, Pondicherry and received the title award of Yoga Vibhushan from Tamil Nadu State Yoga Association and Sports Development Authority of Tamil Nadu (Tuticorin) at the 15th Tamil Nadu State Yogasana Championship held at Kovilpatti, Tuticorin Dist, Tamil Nadu on 10th August 2003.

Other titles and awards received by him are Palkalai Chemmal, Sagala Kala Vallavan, Isai Sevagan, Puduvai Mannin Maindhan, Achiever Award 2003 and Jnana Vruddha. In the past few years he has received more honours such as the prestigious FELLOWSHIP of the INDIAN ACADEMY OF YOGA (BHU) as well as the Dr Sushila Taker National Award for Yoga by AADAR, Gujarat.

Ananda Balayogi Bhavanani is happily married to Yogacharini Smt. Devasena Bhavanani, who has a Masters degree in Sanskrit in addition to being an eminent Yoga Expert, Carnatic Vocalist and Bharata Natyam Dancer, Teacher and composer. They are blessed with two talented children, Dhivya Priya and Anandraj.

For More about Dr. Ananda Balayogi Bhavanani, visit ICYER.com


Back to About International Yogalayam from Ananda Balayogi Bhavanani