Meenakshi Devi Bhavanani (Amma)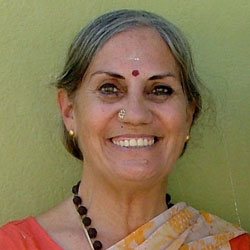 Smt. Yogacharini Meenakshi Devi Bhavanani was born in the United States in 1943. She came to India to study yoga at the age of 25 and fell in love with the country and its culture. She has lived in India ever since, and received Indian citizenship on November 30, 1992. In her own words: "It was the proudest day of my life".

She met her guru and dharma-pati Yogamaharishi Dr. Swami Gitananda Giri Guru Maharaj in 1968. She is now the resident Acharya of Ananda Ashram, and along with their son Yogacharya Ananda Balayogi Bhavanani, devotes her life to his teachings and to institutions founded by him.

Meenakshi Devi has been instrumental in training more than 10,000 village children in the art and science of yoga and Bharat Natyam (traditional dance) since 1975, through the Sri Kambaliswamy Yoga and Fine Arts Programme.

She is a journalist by profession and her articles and essays often appear in national and international magazines and newspapers. She has been editor of the international magazine Yoga Life since 1970 and is Managing Editor of Ananda Ashram's publishing unit Satya Press. As well, she is a prolific author and has written several books pertaining to yoga, including two books of poetry.

She is Director of Studies (Ashram Acharya) for the Six Month International Yoga Teachers Training Course offered annually at the International Centre for Yoga Education and Research (ICYER), as well as for the year-long International Diploma in Yoga Education.

Amma, as she is affectionately refered to by her students, is a popular conference and seminar speaker, and the list of her keynote speaking engagements over the years is endless. She has been Organizing Secretary for several major International Yoga Conferences. Smt. Meenakshi Devi Bhavanani has been recipient of many national awards too. To name a few:


The former President of India Shri Zail Singh Ji awarded her the title "Yogamani" in 1986 at an International Yoga Conference held at the Asian Village, New Delhi.
In 1998 she was awarded the National Award, Bhaskar Award by Bharat Nirman and Indian Trade Promotion Organisation, New Delhi, one of fifty eminent Indians so honoured during the 50th year of Indian Independence for their contribution to Indian culture and spirituality.
In January 1999, Pondicherry Government gave her the highest award for an artist, the Puduvai Kalaimamani Award for her work in Bharat Natyam.
In December 1999 Smt. Meenakshi Devi Bhavanani was named as an eminent yoga expert to the Central Council for Research in Yoga and Naturopathy, under the Health Ministry, Government of India, New Delhi.
She was also named to the finance committee of this council in March 2000. She was named to Academic Council, Pondicherry University, in March 2000.

She is Director of Yoganjali Natyalayam, a popular City Centre for the propagation of yoga, Bharat Natyam and Carnatic Music in Pondicherry. Here she has developed a famous Bharat Natyam troupe that appears regularly in prestigious festivals and also stages spectacular Bharat Natyam and yoga programmes yearly in Pondicherry. Her students have also performed Bharatanatyam recitals in many places including Bombay, New Delhi, Bangalore, Kodaikanal, Chennai, Karaikal and Chidambaram Natyanjali.

With a faculty and staff of 30 people, the Natyalayam boasts a regular student body of 400 and has graduated more than 5000 students since its inception in 1993. In the past 10 years Amma has composed, Choreographed and Directed more than 10 Full-length DANCE DRAMAS, each of three hours duration, involving more than fifty dancers and musicians, and 25 mini DANCE DRAMAS.

Some other notable awards and honours that Meenakshi Devi Bhavanani has received are:


OUTSTANDING SENIOR CITIZEN AWARD 2003 by the Pondicherry JAYCEE ACHIEVER'S
AWARD in 2003 for her significant contribution to the cultural and spiritual life of Indian Society from the Vinayagar Chathurthi Festival committee, Pondicherry in September 2003.
YOGACHARYA BANGALORE SUNDARAM GOLD MEDAL FOR EXCELLENCE IN YOGA from Asana Andiappan College of Yoga and Research Centre, Chennai at Anna University in December 2003 for her noble contribution, distinguished service and outstanding merits of Yoga.
The prestigious FELLOWSHIP of the INDIAN ACADEMY OF YOGA (BHU).
The PUDUVAI SHAKTHI AWARD from the Women's Task Force in Pondicherry.
Honoured by the Dept of Women and Child Welfare, Govt of Pondicherry as one of the Women who have brought name and fame to Pondicherry.

For More about Meenakshi Devi Bhavanani, visit ICYER.com


Back to About International Yogalayam from Ananda Balayogi Bhavanani