As a busy mom who had a hard time fitting in Yoga instruction, I am so thankful to have found a home-study course that offers a powerful new living experience.

I highly recommend this online yoga course for anyone seeking a deeper understanding of the Yoga way of living and to find a greater sense of peace in the world.





Laura Ostrowski
GoodNature.com
What Makes The Yoga Tutor Different?
There are literally thousands of yoga web sites today ... and with all the information (and mis-information) they provide, even an experienced yoga practitioner can feel confused.

One thing I can tell you for sure is that if you are trying to learn yoga online, you're in for a lot of frustrations.

TheYogaTutor.com is different...

Besides having a unique wealth of genuine yoga wisdom that you can rely on -- knowledge that comes direct from the ancient yoga teachings of India -- The Yoga Tutor provides step-by-step yoga learning programs that are second to none.
The Yoga Tutor is Your Solution For Learning Yoga Online
With our step by step yoga learning programs, you'll learn to safely practice yoga anywhere, anytime ... and best of all, without having to pay anything to do it!

The Yoga Tutor has the perfect yoga training program for you, whether you're a beginner wanting to develop the basics, or an experienced yogi who is ready to explore yoga even further.

You won't find any yoga home study programs that even come close to the online yoga programs offered here ... I guarantee it! In fact, all of The Yoga Tutor's yoga training programs are backed with our 100% satisfaction guarantee.

Check out our online yoga training programs today and find out how easy and how inexpensive doing yoga can really be ...

Yogacharya Michael has understood the true nature of yoga and is making a great effort to share it in its pristine purity through the internet.

This is a true union of the ancient and the new, for the teachings are as ancient as they can be, yet, the methods of instruction are the most modern possible.



TheYogaTutor.com

is a noble endeavor to spread the message of classical yoga to all nooks and corners of this world.




Dr. Ananda Balayogi Bhavanani
Chairman: Yoganjali Natyalayam and International Centre for Yoga Education and Research
Hon General Secretary: Pondicherry Yogasana Association
Quick-links To Our Most Popular Online Yoga Courses:
The Yoga Master's Course
A one-year yoga correspondence course. Most in-depth online yoga training you'll find.

(Level 2)
The Science of Yoga
The most comprehensive and concise yoga home study course available anywhere!
(Level 1)
The Basic Yoga Trainer
Perfect for yoga beginners and those who want to learn to practice yoga at home...
I've been admiring your philosophy, presentation and program for the past six months. From the extensive research I've conducted online, your yoga courses are by far the BEST on the WEB.
J. Sean Durham, Ph.D., RYT,
Director of Studies, YogaSciences.com
I wish to commend Yogacharya for his considerable efforts in creating This yoga home study course.

I was also a pupil of the inimitable Yogamaharishi Dr. Swami Gitananda Giri Guru Maharaj... I'm delighted to see his teaching presented so clearly, succinctly and accessibly as he himself would have done.

I have no hesitation in recommending this course to any and all students of Yoga, novices and experienced practitioners alike.





Shantideva Acharya
Yoga Teacher
South Okanagan Yoga Academy
A Message From The Founder: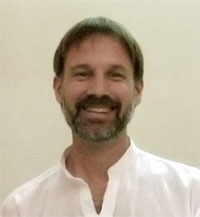 Namaste,
I'm Yogacharya Michael and I know the amazing things that yoga can do for you because I've experienced them myself.

I'm not just talking about physical health, although there is no question that the regular practice of yoga brings a health and a youthful vigour second to none.

But I'm also talking about the yogic approach to living--one that teaches us how to easily live more harmoniously with our fellow citizens and our surrounding environment. Yoga gives us an amazing range of tools for personal growth and transformation too, most of which is missed in the modern yoga class.

That's unfortunate, because beyond the stretches and breathing exercises--all great stuff for health and vitality--the complete science of yoga can literally change your life. It changed mine!

That's why I created these training programs--to give you all the tools to find health, harmony, vitality and success on every level, through the powerful ancient science of yoga.

The letters I get from my students say it all. Look at this one, for example: "I'm in a yoga teacher program now, but I've learned more from your online course than anything I learned in class!" (Marie Neugent, Yoga Student)

Or how about these?
"I'm really enjoying this course so far and learning more than I ever imagined. Thank you for putting together this wonderful course!" (Kevin Tangen, Yoga Student);

"Dear Yogacharya... when I look back on the past year and see how far I have come through this course, I find myself in awe of the power of yoga! (Sue Bushell, Yoga Master's Course Student)

What Makes My Yoga Programs So Different? These are not just videos of yoga classes for you to follow along with. They are complete 'yoga learning systems' to help you develop the proper understanding, confidence and ability to safely practice yoga on your own.

And the step by step format makes them SO EASY that anyone can do them--even a total beginner. My yoga training programs really take the mystery out of yoga so that YOU can practice yoga without having to rely on someone else to tell you what to do next. That's what makes my yoga training programs so unique and so effective.

I've had hundreds of satisfied students go through my online yoga training programs, right from the comfort of their own homes ... The results speak for themselves. I hope you'll give it a try. You've got nothing to lose and SO MUCH to GAIN!

Yours in Yoga,